Mother's Day Tour and lunch at McClelland Gallery
On Friday 12th May from 11.00am for tour then lunch to follow.
The Pink Slips plan to meet at McClelland Gallery reception desk at 11am for a guided tour of the very beautiful Sculpture Park. Our last trip to the Gallery was some years ago and was a very enjoyable experience, so don't miss out.
The guided tour will be at a cost of $5 and make sure you dress for the weather. In the event of bad weather, an alternate tour will be offered.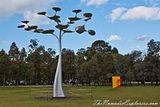 The McClelland Café offers a good menu for lunch.
Make sure you sign up early for this very special as McClelland Gallery and Sculpture Park is one of the best kept secrets on the Peninsula!
See us at the LGC tables or e-mail us at cruisinletsgo@hotmail.com for details.