» (Feb) The Bear House
» (Mar) The Cove

» (Feb) Sidetracked
» (Mar) Beretta's
» (Dec) Christmas Lunch

The Pink Slips host regular social get togethers for enthusiasts of Chrome Bumper Cars. With our emphasis on seeking out interesting venues and good value lunches, we hope to provide something of interest for everyone.
Ladies, if you're not already receiving Heather's monthly newsletter via email, please provide her your email address at the LGC tables and you will be kept up to date with what Pink Slips have planned in the coming months.
Check in on this page for details of upcoming activities or ask any of our lady members at our events for info.
Please help our planning by R.S.V.P. for our luncheons, use the number and contact provided or email cruisinletsgo@hotmail.com
EVENTS From 2019
To contact the Pink Slips speak to one of our members at the LGC tables or email us at cruisinletsgo@hotmail.com
---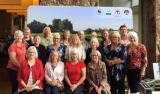 Christmas Lunch
The Sandhurst Club provided a very special venue for the Pink Slips Christmas Lunch.
As can be seen from the attached photo, it was a very happy catch up.
Thanks to Meg & Heather for organizing the venue. Wishing you all a very Happy Christmas and a great 2020.
"Christmas lunch at the Sandhurst Club"
FRIDAY 6th DECEMBER FROM 12.00
Join us for another fun Christmas lunch at the Sandhurst Club, 75 Clubhouse Lane, Sandhurst
A' la carte lunch in the restaurant, lucky door prizes and a fun time for all.
Reservations essential by Santa Cruz on December 3rd.
Sign up at the LGC tables at Santa Cruz or contact us by email
cruisinletsgo@hotmail.com to reserve your seat.
Don`t forget to wear "a little bit of Christmas, or A LOT"
---
"Pink slips Lunch by Popular Demand"

Friday March 8th from 12 noon 2019
at Beretta's Langwarrin Hotel
220 Cranbourne Rd., Frankston
The Pink Slips invite you to a lunch and get together at the Langwarrin Hotel.
The bistro offers a la carte or a "Lunch special" with a glass of wine/soft drink for $16.
To enable us to make a booking please email Heather at cruisinletsgo@hotmail.com
Join us for another fun lunch
---
Get together

8th February 2019
at SIDETRACKED
Huntingdale Road Oakleigh
Join the Pink Slips for lunch and activities at SIDETRACKED located in Huntingdale Rd Oakleigh. Try your hand at go karting, ten pin bowling, dodgem cars and lots more. Put the date in your diaries as this will definitely be a fun event, not one to miss.
Nick was the winner on the day.
---
The Entertainment™ Book is a restaurant and activity guide that provides special 25 to 50% off and 2-for-1 offers from many of the best restaurants, hotels and entertainment throughout Australia.
You can purchase your 2015-16 Book from Kerin at the LGC tables for $65. We've found the book a great deal. You only need to use a couple of times to get your $65 back. Very popular with the Pink Slip girls at the functions they host.
---
We hope the Pink Slips pages will be a fun way for the ladies to stay in touch if you have any photos and news please e-mail cruisinletsgo@hotmail.com